August 13, 2023
Sustainable Mobility to Accelerate City's Goal to Net Zero Emission
Panel 5: Meeting Of The Governors/mayors Of The Capitals (MGMAC) Of ASEAN 2023
As part of the Meeting of the Governors/Mayors of the Capitals (MGMAC) of ASEAN, the Government of Jakarta, partnering with The World Economic Forum, conducted a panel discussion titled "Sustainable Mobility to Accelerate City's Goal to Net Zero Emission" at Ruby Room, Fairmont Hotel, Jakarta, August 1, 2023. This session brings together private sectors and city governments to explore how cities in ASEAN can reduce carbon emissions by implementing effective and sustainable transportation systems.
Gilarsi W. Setijono (CEO of VKTR); Purbaja Pantja (Director and Chief Investment Officer of Indika Energy); and Mr. Fahmi Aliman (Mayor of South East District, Singapore), and Etsa Amanda (Senior Transport Policy and Development Associate of ITDP Indonesia) become the panelists of the event. The discussion was moderated by Annisa Febriana from The British Embassy Jakarta.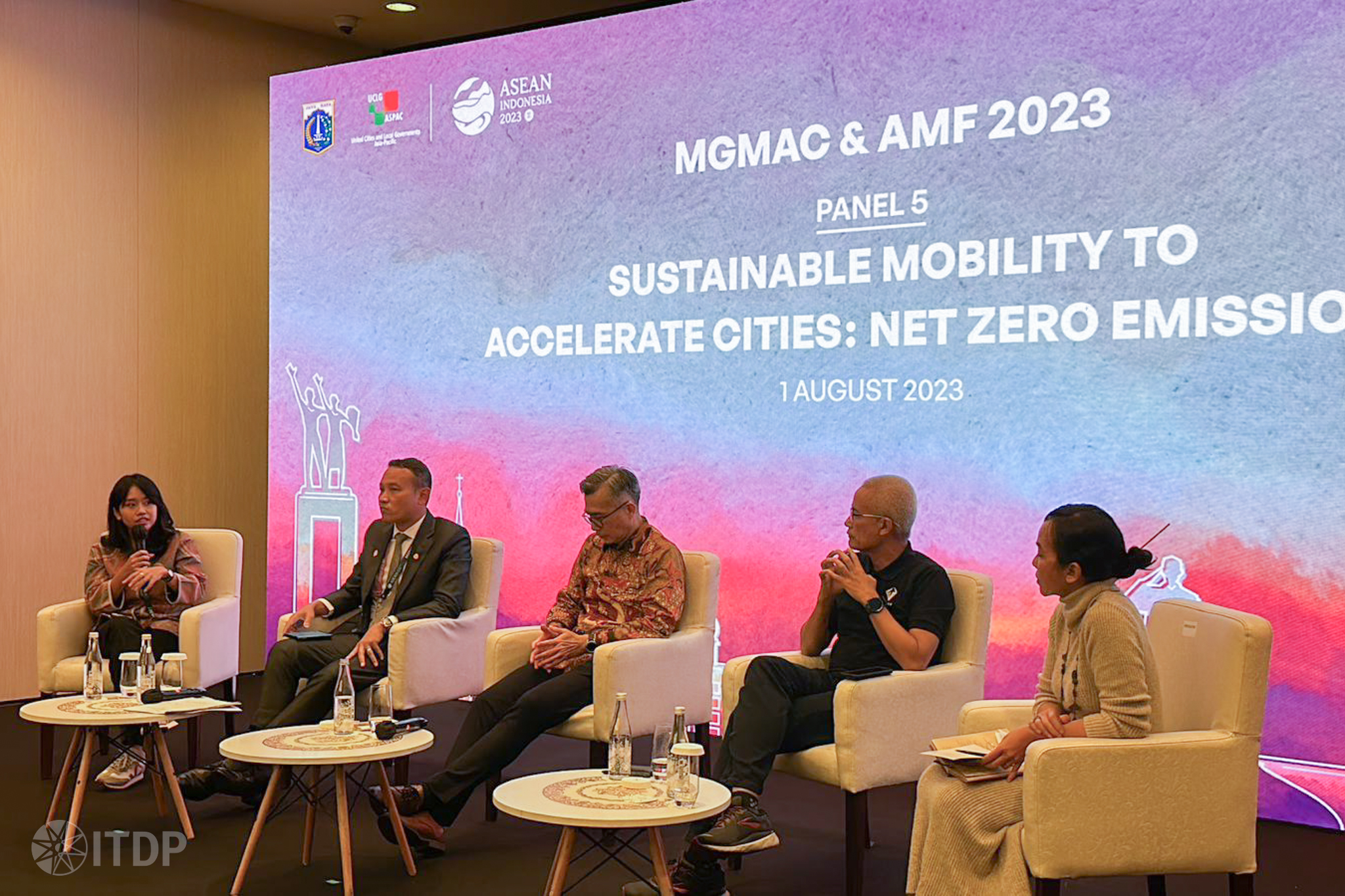 Etsa Amanda, Sr. Transport and Development Policy Associate of ITDP Indonesia, as the representative of an NGO/Think tank, highlighted the need to maximize electrification not only to transform the technology, but also to reform the whole urban public transportation system. Moreover, she pointed out that electrification is not a silver bullet hence it is an integral part of the sustainable mobility framework; Avoid – Shift – Improve.
Purbaja Pantja, the CIO of Indika Energy, pointed out that the key challenges and opportunities for sustainable mobility through electrification is educating the market needs to be conducted more. Electrification consisted of a completely different ecosystem. To do the electrification transformation, operators still need support on financing. Gilarsi W. Setijono, CEO of VKTR, said that VKTR needs to understand the complexity of urbanization and public transport. It should start with the right policies and regulations about financing e-bus.
Examining examples from other nations like Singapore, Mayor Fahmi Aliman of the South East District, Singapore, emphasized the active involvement of citizens in the formulation of policies, particularly concerning their apprehensions and the effects on individuals, businesses, and employment. He also underscored the financing of electric buses from the vantage point of the circular economy. Challenges lie in effectively integrating the ecosystem and raising awareness about its sustainability.