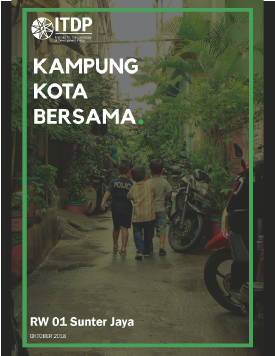 Program Kampung Kota Bersama merupakan program yang diinisiasi oleh ITDP Indonesia untuk membantu menata sejumlah kampung kota di DKI Jakarta untuk lebih ramah terhadap pejalan kaki dan juga pesepeda. Dalam proses pendampingan yang dilakukan, ITDP menggunakan metode community development sehingga terjadi kolaborasi dengan warga kampung.
Pelibatan perempuan dan anak-anak juga adalah kunci pendampingan yang dilakukan ITDP. Program ini diimplementasikan dengan harapan, program sejenis yang menciptakan kawasan yang ramah pejalan kaki dan anak-anak dapat  direplikasi di banyak tempat, baik di DKI Jakarta maupun sekitarnya.
---
Kampung Kota Bersama Program is a program initiated by ITDP Indonesia to help improve the accessibility and mobility of a number of urban villages in DKI Jakarta and to shape them to be more friendly to pedestrians and cyclists.
In the process carried out, ITDP used the community development method so that this program involving and collaborating with the citizen to improve the quality of life in their neighborhood. The involvement of women and children is also the key to in the implementation of this program. This program is developed with the hope that similar programs that create pedestrian-friendly areas and children can be replicated in many places, both in DKI Jakarta and surrounding areas.